There are too many styles of fencing to list them all here, but we have carried out all sorts of fencing for all sorts of clients!
Whether you require post and wire stock netting fencing for functional boundary control, or ornate timber panelling for something a little more aesthetic in the garden, we are happy to discuss your needs and provide a no obligation quote.
Lattice top fence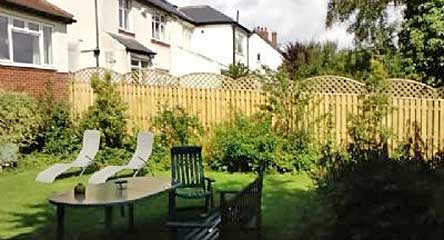 This double sided palisade with lattice work top section gives privacy without being too imposing. It also allows wind to pass between the vertical timbers so is ideal on exposed sites.
Square horizontal panel fencing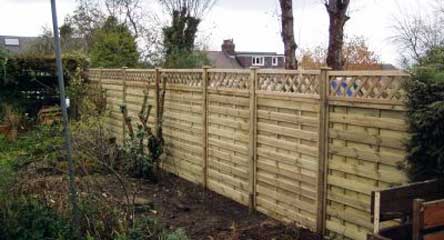 This 'square horizontal' panel is arguably more attractive then cheaper alternatives. This client required a lattice top section to give a little more height without the fence feeling too imposing.
Feather edge fencing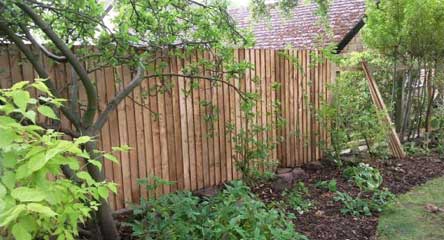 A cheap and simple solution for uneven or sloped ground. Feather edge boards are attached individually so can be cut to length according to the variations in ground level.


Stock Fencing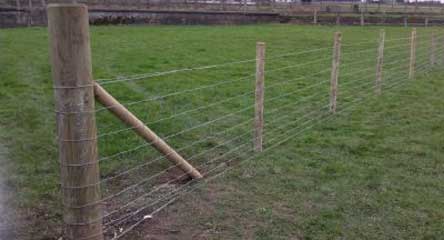 Stock fencing is ideal for agricultural settings, being comparatively cheap, quick to erect, robust and easy to repair if damaged. We were contracted to build this fence on an urban nature reserve to protect the newly planted woodland in front of the fence line.
We have used a similar construction technique to 'dog proof' a number of gardens in more urban settings. The fence can be constructed tight up to an existing hedge, which will grow through the wire making the fence itself almost invisible, and keep Fido from escaping!