We have built miles of field walls around the region over the years, but I particularly enjoy the challenge of constructing dry stone features in garden settings. I believe any garden would be enhanced by a dry stone walling feature, and though the initial expense may be an issue, it is literally there for life. Raised pond surrounds and retaining walls have proved very popular, and provide a real focus to an overall garden design.
Dry Stone Seating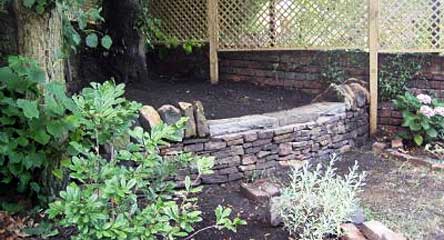 An ignored and overshadowed corner of a garden in Nether Edge is transformed by a simple dry stone retainer / seat construction. With some shade tolerant planting under the tree, this area becomes a real focal point, working well with the stonework of the adjacent Victorian building. The trellis work along the rear boundary allows climbers to grow, giving some privacy to the area
Retaining dry stone wall along stream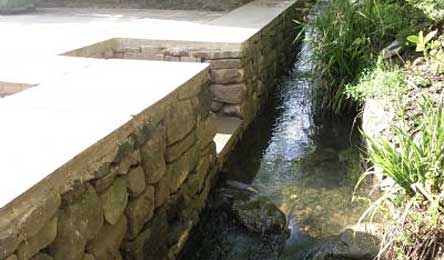 An interesting job involving working knee deep in water! The client wanted a paved area down to the stream edge, and steps down to the water itself. the whole hard landscaping project turned out very well and used the space very effectively.
Dry stone retaining wall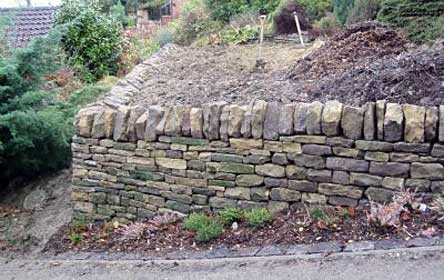 A really nice project this, on the western edge of Sheffield, using locally souced Dark Peak sandstone. The aim was to get rid of a really awkward sloped bank, and echo the curved shape of the existing driveway. The flat ground created above the wall provided space to plant some really nice structural shrubs. This wall blended beatifully with the rest of the garden, and looked like it had been there for ever.
Dry stone wall cheek end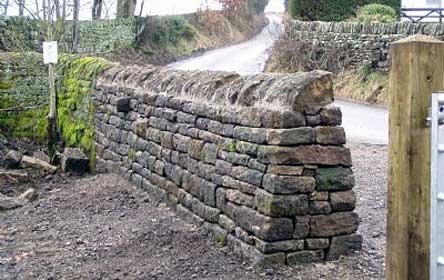 This was a nice little project for a local authority adjacent to Agden Reservoir, to build a section of dry stone wall tied in to the existing wall, with a field gate and squeeze stile for access. Note the angle, or batter as it is known, of the wall, which is essentially what gives a dry stone wall its strength. Also one of several through stones can clearly be seem poking out of the far end of the wall, which again provides strength and ties the two sides of the wall together.
page last updated: 08/04/2014